<![if !vml]><![endif]>
Members-Only Page
Visit our Gardening-Related Interesting Articles

Instructions/Purpose of Members-Only Page

01/21/2011

Joan Thomas

847-543-7372

Want to post a message?  Send me an e-mail with your message exactly as you want it posted on our Members-Only Page.  I will try to post all messages as quickly as possible.

Afterwards, please let me know  when your message should be updated or removed
<![if !vml]><![endif]>
SBF Garden Club Cartoon Corner
Cartoon Corner 

<![if !vml]><![endif]>

<![if !vml]><![endif]>

7/27/2008 Contributed by Mark DeGroot

Contributed by Stevie Lapetina - 6/16/2008  

<![if !vml]><![endif]>

<![if !vml]><![endif]>

Contributed by Stevie Lapetina – 9/28/2008

<![if !vml]><![endif]>

How to tell if you are Mom's Favorite

<![if !vml]><![endif]>

Contributed by Harriet Klinger – 4/14/2009

<![if !vml]><![endif]>

Garden Rule #2:

A weed is a plant that has mastered every survival skill

except for learning how to grow in rows.
<![if !vml]><![endif]>
SBF Garden Club Interesting Articles
Interesting Articles 
Submitted by Stevie Lapetina – April, 2010
<![if !vml]>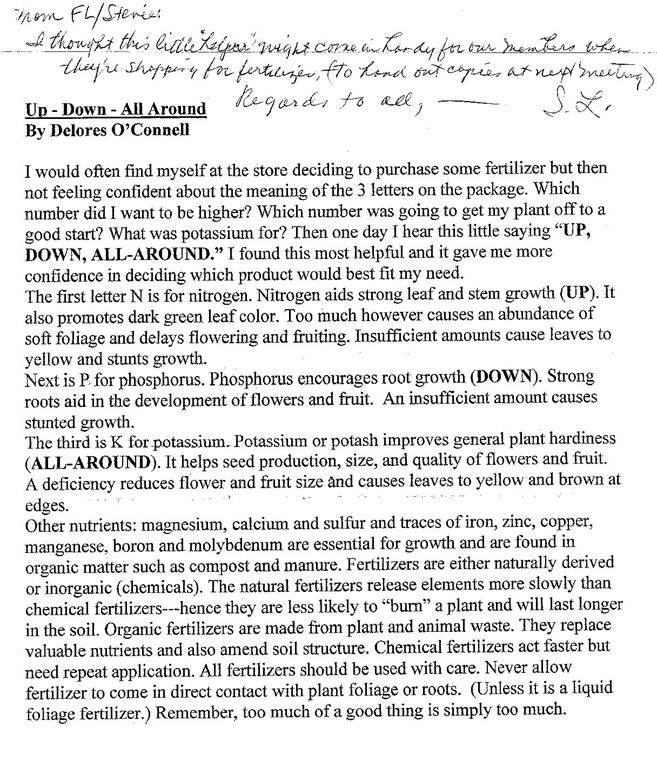 <![endif]>
Something to Remember
By Honey Barnekoff (Submitted by Stevie Lapetina – 10/2008)
     It might be wise to carry a penny in your pocket while working in your yard.  A couple of weeks ago, I was stung by a bee and a hornet while working in the garden.  My arm swelled up, so I went to the doctor.  The clinic gave me cream and an antihistamine.  The next day the swelling was progressively worse, and had become infected.  By this time I needed an antibiotic, so back to the doctor I go.  The doctor told me that the next time I get stung, put a penny on the bite for 15 minutes.
     That night, my niece was stung by two bees.  I looked at the bite and it had started to swell, so I taped a penny to her arm for fifteen minutes.  The next morning there was no sign of the bite.
     Soon, I was out gardening again. I was stung twice again by a hornet on my hand. I thought, here I go again to the doctor for an antibiotic treatment, and then remembered about the pennies.  I promptly got my money out, and taped two pennies to my bites. The pennies immediately took the sting out of the bites.
     The next morning I could only see the spot where the hornet had stung me.  No redness, no swelling.  My friend, in the meantime, had also gotten stung.  Again the penny, and again we could not even tell where she had been stung.  The doctor said the copper in the penny counteracts the bite.
It definitely works!
Praying Mantis  (Submitted by Stevie Lapetina – 10/2008)
<![if !vml]>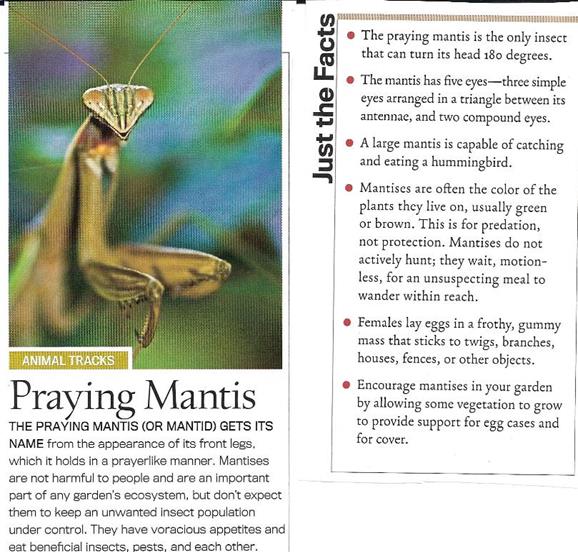 <![endif]>
Marcia England suggests we get these for "Critter (Rabbit) Control"
<![if !vml]>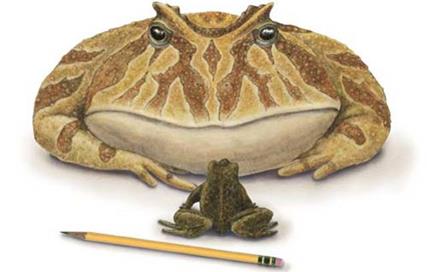 <![endif]>
A frog the size of a bowling ball (10 pounds and 16 inches long), with heavy armor and teeth, lived among dinosaurs millions of years ago -- intimidating enough that scientists who unearthed its fossils dubbed the beast Beelzebufo, or Devil Toad.
<![if !vml]><![endif]>
Garden Club Directory
SBF Garden Club Directory

02/26/2019

Last Name

First Name

E-mail Address

Home Phone

Home Street

Bridges

Pamela

plbridges1@att.net

(847) 752-2155

142 Gulfstream Court

England

Marcia

mengland121@sbcglobal.net

(847) 548-6727

121 Hitching Post Lane

Foss

Sally

(847) 986-4741

75 Rocking Horse Lane

Gardner

Ginna

(847) 772-2427

605 Filly Lane

Giddings

Karen

(832) 226-4307

3219 Harness Lane

Gleeson

Carolyn

Cagleeson32@gmail.com

(847) 984-0982

3424 Stretch Run Road

Goldstein

Karen

(847) 986-4317

308 Del Mar Lane

Hintz

Helen

(847) 548-6941

3864 Fox Hunt Way

Hunt

Char

chiandjoe@sbcglobal.net

(847) 566-4868

500 Balmoral Court

Janowitz

Rita

rivkaLMCA@aol.com

(847) 231-4901

3903 Thistledown

Kuba

Kathy

(630) 558-0008

225 Amendola Way

Moran

Ann

(847) 986-4444

69 Rocking Horse Lane

Ross

Loretta

3012 Bridle Path Way

Samuelson

Peg

(630) 886-9567

13 Saratoga Court

Stahoviak

Margaret & Ed

emstahoviak@sbcglobal.net

(847) 638-0772

507 Balmoral Court

Stelter

Bernice

odyssey1228@att.net

(847) 223-5359

223 Hialeah Lane

Szymber

Barb

barbaraszymber@gmail.com

(847) 548-2469

2613 Maywood Court

Thomas

Joan

jthomas7193@sbcglobal.net

(847) 543-7372

1408 Equestrian Drive

Vetter

Bob

karobvetter@gmail.com

(847) 543-9881

2109 Champion Drive

Warren

Judy

jnwarren44@sbcglobal.net

(847) 543-6947

3605 Preakness Lane

Wolf

Mary Anne

(847) 986-4034

1526 Meadow View Ln

Note:  When sending e-mails to a group of members, please put their addresses on the bcc: line.

SBF Garden Club Board of Activities

Activity

Coordinator/Chairperson

Club Coordinator

Joan Thomas

Recording Secretary

Marcia England

Treasurer

Judy Warren

Treasurer Assistant

Bob Vetter

Blue Star Project

Bob Vetter

Club Contact

Joan Thomas

Club Events/ Programs

Mary Anne Wolf

Display Garden

Joan Thomas 

Librarian

Ann Moran

Meeting Hospitality

Barb Szymber

SBF Resident News Notes

Joan Thomas

Volo Bog/Moraine Hills S.P. Liaison

Bob Vetter

Webmaster

Joan Thomas
Saddlebrook Farms Flower Gardening Club
Meeting Date:  April 25, 2019                      Next Meeting: May 23, 2018
Attendees:       Judy Warren                            Marcia England
                        Joanie Thomas                         Mary Anne Wolf
                        Karen Giddings                      Marg Stahoviak
                        Sally Foss                                Bob Vetter
                        Peg Samuelson                        Barb Szymber
                        Karen Goldstein                      Barbara Hogan
A.        Joan called the meeting to order and thanked Barb and Karen for the refreshments.
            We welcomed our newest member, Barbara Hogan.
B.         Minutes - Marcia
No business meeting held last month.
C.        Programs – Mary Anne
Mary Anne provided a list of speakers scheduled for the remainder of the year, covering almost every month. Judy W. pointed out that we need to have a business meeting now and then. Mary Anne said that the October meeting could be used for that purpose, since the topic for that month was Business Agenda Wind-up. Peg then mentioned that we had previously discussed scheduling some outings, and she wanted to set something up, e.g., the Lego Land Center; Chicago Botanic Garden; etc. Mary Anne replied that for September, she thought we could have a roundtable discussion, so it might be possible to go on an outing prior to our discussion.
D.        Treasury Report – Judy
Judy reported that our current bank (MB Bank) is being taken over by Fifth-Third Bank and we will need to renegotiate the terms of our account.  She was told that the account would no longer be considered a "non-profit" account.  It is now going to be called a "Business Standard" account.  She will continue searching for a bank that will meet our needs without charging fees.
E.         Shed Maintenance
            This responsibility falls on the garden club membership.  A shed cleanup has been scheduled. Several members agreed that Tuesday, April 30th at 9:30 a.m. would work for them.
F.         Display Garden - Joanie
            Joan suggested that we divide the Heuchera (Coral Bells) this year. It was evident from past years that some of the plants around the edges of the garden aren't getting enough moisture, so she plans to spread Organimix around these areas.
            Right now the Fritillaria (Crown Imperial) is blooming beautifully, and the Daffodils. A garden cleanup will be announced at a later date.
G.        Library – Ann Moran
            Ann commented that there are a couple framed documents in the library that perhaps are no longer needed.  These were removed from the walls when the Lake Lodge was painted, and remained in the library. They are "Honor Roll" certificates      from a couple past Garden Walks. We agreed that since we no longer do garden walks (due to lack of resident interest, and the work involved in putting these together) they could be disposed of.
H.        Volo Bog/Moraine Hills – Bob
            Bob reported that the boardwalk in the Volo Bog is being repaired, so one can no longer walk the entire circuit until repairs are completed.
            He informed us that he no longer coordinates the volunteer prairie gardeners at the Bog, but still oversees the Moraine Hills gardens, and would love to recruit some new volunteer gardeners.  He has a very helpful and informative handbook for the volunteers.
            Check out the websites: FriendsofVoloBog.org and MoraineHillsStatePark.org.
I.          New Business
            Perennial Plant Sale
            The date for our plant sale will be May 22nd, from 12 noon to 2:30.
            We will start setting up at 8:30 a.m.  Be sure to label anything you are bringing from your own garden with: name of plant, sun/shade requirements, bloom time, approximate height and width, and color.
            A signup sheet was passed around for volunteers to dig up plants, pre-sale potting, day of sale set-up, sales help, and cleanup.  A copy of this sheet will be included with the minutes.  If you didn't sign up, but would like to volunteer, please email Marcia (mengland121@sbcglobal.net)
            Discussion
            Peg belongs to the Town and Country Garden Club and she announced they will be sponsoring a garden walk in the Libertyville/Mundelein area on June 29th.
            In November, they will have a luncheon at the White Deer Run Golf Club in Vernon Hills, where a photographer will make a presentation.           
J.          Refreshment schedule
            May                       Joan
            June                        Karen Goldstein
            July                        Marcia
            August                  Peg
            September             Mary Anne
            October                 Sally